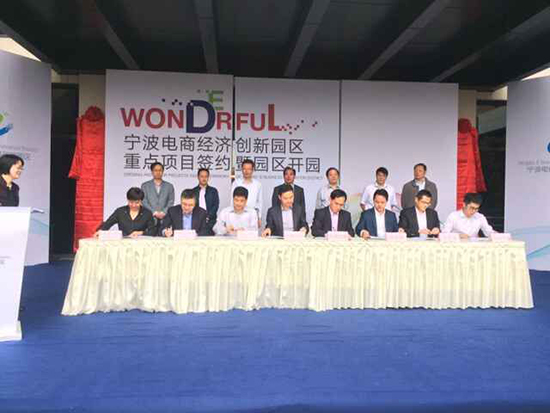 Opening of the Ningbo E-business Innovation District
Ningbo E-business Innovation District, based on the Ningbo E-commerce City Planning, was set up in May 2015 by Ningbo Municipal Party Committee and Ningbo Municipal People's Government, focusing on the development of innovative E-business economy. The District, located in the Qianyang Block, to the north of Yao River and in the center of the urban area in Ningbo, boasts its favorable geography and beautiful surrounding landscape and is quite close to the North Exit, Ningbo Expressway. The kernel area of the District covers a total area of around 3.6 square kilometers, while the extended area covers about 7 square kilometers, with Ningbo E-business Logistics Center and Block No. 6 & No. 7 of the Initiative Area of Yao River New Zone included. Linkage area is composed of the Haishu E-business Park and other E-commerce industrial parks in Ningbo.
The District highlights E-business economic innovations on the e-business industry, smart industries, pseudo-banking, cultural innovation and headquarters economy for improving infrastructure, enhancing the efficiency of systems and mechanisms, perfecting public services and cultivating a better ecological environment, and for developing the District into an economically large-scaled, vigorous, highly opened-up and optimized factor-allocated E-business innovation park with favorable comprehensive environment and of certain influence and competitiveness in China and throughout the world.
The District highlights the integration of industrial chains, supply chains, value chains, innovation chains and service chains and gathering of enterprises for the development of E-business economy; focuses on introducing and nurturing new industries, new formats, new models, new technologies and new platforms; highly supports the development of five major industries of "1+4", namely 1 E-business and 4 industries of pseudo-banking, smart industry, headquarters economy and cultural innovation.
Parks within the District include Yahu E-business Park, Beyond Textile Industrial Park, GXG Fashion Space and Changxing 158 Incubation Base, etc.
Ningbo E-business Innovation District is entitled "National E-business Demonstration Base" and one of the "Top 10 Industrial Bases for E-business in Zhejiang Province".
The"North of Ningbo" has become the forefront of the "E-future" in Ningbo and aims at becoming one of the "Top 3" in China, catching up with Shanghai Qiantan and Shenzhen Qianhai. The "North of Ningbo" has fulfilled an astonishing "3 great leaps forward" from the earliest Jiangbei E-business Park, Ningbo E-commerce City to Ningbo E-business Innovation District and finally Zhejiang Qianyang Economic Development Zone for now.
Ningbo E-business Innovation District is actively cultivating B2B industiral E-business and introducing commodity trading, logistics supply chain,s cross-border trading, internet banking and projects on "Manufacturing +" for the formation of an "1+4" Ecological Industrial Circle of E-business. Till the middle of July, the District had introduced a total of over 3,000 enterprises with invested capital of 11 billion RMB.
The District boasts 4 national E-business Headquarters, namely China Tobacco, To-go Corporation, COSCO, CCIC and China Continent Insurance, and has held a number of promotion conferences in Shanghai and Beijing, introducing commodity-related enterprises of www.zhaomei.com, www.toocle.com, Vanstone Group and www.easysobuy.com, etc., cross-border E-business platforms of www.e-broadway.com and www.kjtyt.com, port and waterway logistics supply chains of COSCO and so on, and financial enterprises, including Zhejiang Zhenggang Holding Co., Ltd., China Continent Insurance and Prosperity Investment and so on. And the District boasts over a hundred potential major projects, such as https://lst.1688.com, Yongyou O2O Flagship Store on JD, www.ygtcpa.com, Zhongxing Cross-border and www.hc360.com, etc.
2 research institutes, including Haizol Material Industrial Innovation Research Institute and Qianyang Innovative Big Data Research Institute, Chinese Academy of Social Sciences, have taken root in the District. Another 6 research institutes, namely East China Aero Engine Research Institute, CSSC Power Research Institute, Qinghua Electronic Commerce Transaction Technology National Engineering Laboratory Ningbo Research Institute, Peking University Avenue Business Research Institute, Institute of Oceanology, Chinese Academy of Sciences, and Institute of Space Technology Applications, China Academy of Space Technology, are discussing the settlement with the District. And a virtual university park is to be set up.
The Mass Makers' Space of the District is extremely suitable for those E-business talents and ventures, who are able to enjoy leisure, catering, shopping, fitness and other one-stop services.
The kernel area delivers 225,000-square-meter buildings and there is always a designated service provider, an in-charge leader and a group to provide services for every settlement of enterprises.
Ningbo is to catch up with Shenzhen Qianhai and the "Ningbo Qianyang" of Shanghai Qiantan, and develop itself into a "Competitive National E-commerce City" and a "Key International E-commerce City".
Tel.: +86 574 8766 6915